Physical/Chemical and Biological

Wastewater Treatment Plant Operations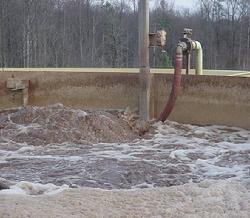 Activated Sludge
---
Certification Training
All Levels of wastewater and water certification review.
Certification Renewal.
Site Specific Training.

Laboratory Procedures.
Safety and Health (OSHA).
Emergency Response.
Solids and Waste Management.
Compliance Reporting.
New Processes and Equipment.
Facilities Auditing.



---
Training Resources
Flow Meters and Recorders.
Hydraulics Laboratory.
Chlorination Hardware.
Pumps & Pump Maintenance.
Chemical Feed Systems.
pH Control and Monitoring.
Small Scale Treatment Plants.
Lab and Field Testing.
Computer Controls and PLC's.
Lubrication Management.
Corrosion Reduction & Control.
Sampling and Monitoring.



---

Consulting Services

Contract Operations.
Operator of Records.
System Troubleshooting.
Operations Technical Management.
Site Surveys and Reports.
Jar Testing and Pilot Scales.
Compliance Auditing.
Systems Startup.
Regulatory Compliance.
Facilities Upgrades.
Investigations.
Engineering Reviews.
Water Quality Evaluations.



---
Active Research


Process Tests Correlations.
Metals and Chemical Toxicity.
Modified Laboratory Procedures.
Nitrification Techniques.
Materials Recovery and Recycling.
Common Metals Removal.
Precious Metals Recovery.
Ion Exchange Processes.
Nutrient Reduction.
Chemical Substitution.
Process Enhancement.
Organics Load Reduction.